KATHRYN JENKINS
Clinical history:
A 19-year-old Grey warm-blood horse presented as lethargic and anaemic, with very pale mucous membranes and covered in melanomas.  Bloods were submitted for biochemistry and haematology testing.
Haematological findings:
Haemoglobin (69g/L) and haematocrit (0.20 L/L) were both below the normal reference interval and red cells displayed anisocytosis, and poikilocytosis. Small numbers of acanthocytes were seen.
A neutrophilia (8.8 x109/L) supported inflammation, despite the fibrinogen being normal.
Low numbers of cells containing very dark granules were also noted in the blood smear (see photographs right).
Photograph above: Intact cell with coarse, dark granules;.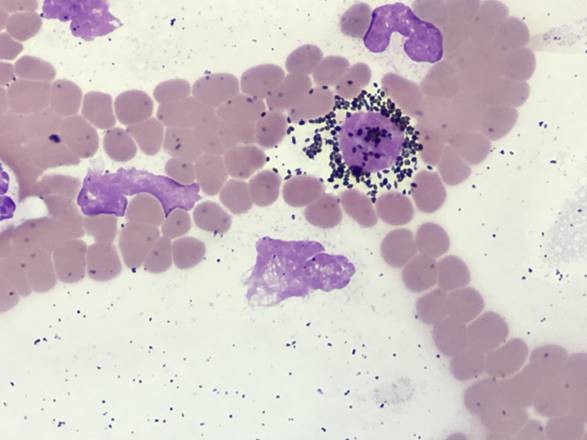 Photograph above: Disrupted cell showing the granules more clearly.
Discussion:
The granulated cells are melanocytes. Finding them in circulation supports the potential for metastatic disease in this case.
Equine melanoma can be benign or malignant. The skin is the most common site for the tumour in horses, with the typical locations being the ventral tail, perineal region, prepuce and commissure of the lips. It is most prevalent in grey horses and it's estimated that up to 80% of grey horses more than 15 years old have melanomas.
Tumours are usually firm and nodular, may be solitary or multiple, and may be hairless and ulcerated. They are usually black. Melanoma can be suspected based on clinical signs and visual inspection, and confirmed via either FNA cytology or biopsy histopathology. Further diagnostics are recommended especially if the mass is atypical in appearance.
THANK YOU TO ELTHAM DISTRICT VET SERVICES FOR THIS INTERESTING CASE.